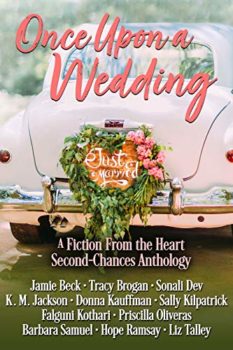 e-Book, Trade Size
June 11, 2019 Indie Published
Out of Print
Once Upon a Wedding
Say I do…
Eleven best-selling and award-winning authors request your presence as they share all-new novellas that will have you humming the wedding march and dreaming of champagne toasts. It's easy to tie the knot with these heartwarming, second chance love stories.
Weather or Knot by Tracy Brogan

Two meteorologists with a turbulent romantic history join a team of storm chasers and discover that love, like lightning, sometimes strikes twice.
To be re-released as a stand-alone novella April 2020!
Also includes:
I Do, Again by Jamie Beck
The Runaway Bride by Sonali Dev
Starboard Vow by K.M. Jackson
A Wedding in Swan Harborby Donna Kauffman
Snowbound in Vegasby Sally Kilpatrick
Star Struck: Take Two by Falguni Kothari
Always Yours by Priscilla Oliveras
Home Sweet Home by Hope Ramsay
Inseparable by Barbara Samuel
A Morning Glory Wedding by Liz Talley