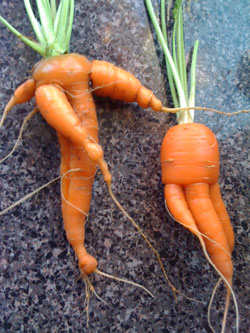 Last week, I was convinced 2011 was The Year. The year I'd get published. The year I'd get rock hard. The year my kids would start making their beds.  Well, the New Year is now nine days old. It's noon and I'm still in my jammies. I haven't met my daily word-count goals. My kid's rooms are post-apocalyptically messy, and I've yet to meander my way to the treadmill currently gathering dust in my basement. At this point, I could give up. I could say, "Well, there goes another one." Brand new year – same old me.
But it isn't the same me. This year, some things are different. I have staked a claim in our guestroom, which I now refer to as "My Office." I'm having the walls painted a funky shade of green to compliment my eye color. I hung cute, decorative corkboards to use for storylines. And my daughter made me a door knob sign that says, "Do Not Enter! I Am Writing!" I've electronically pencilled-in Office Hours so I have time dedicated to nothing but writing. No stopping to change that load of laundry, respond to a snarky text message from a friend, or visit the pantry for just a little sumptin' sumptin. Can't. I'm working. Because writing is no longer a hobby for me. It's my job. And I'm going to treat it like one.
Perhaps the biggest and best change for 2011 is one in perspective. This year, I vow to stop letting perfectionism prevent me from trying. Something doesn't have to be perfect to be worthwhile, to be beautiful, in fact. Perfection is a goal, the process of getting there often messy and uncomfortable. But it doesn't have to be. In my fab new office is a flower pot with the word LOVE painted on it.
Upside down.
Because that's how my daughter was holding it when she painted it. But she gave it to me anyway, with pride, knowing that I understood the affection and motivation behind the gift. She knew it wasn't perfect, but she also knew I'd cherish it. And I do.
I write because I love to write. Sometimes what I come up with ain't so good. So, I'll always strive to write better, more lyrically, more emotionally impactful, more thigh-slappingly funny. But I won't let the goal of perfection stop me from enjoying what I produce along the way. I'll probably never run the Boston Marathon, but today, I'm going to get on my treadmill. My kid's rooms will remain disaster areas, but hearing them giggling together as they play with new Christmas toys makes up for the mess. And I may never be interviewed by Matt Lauer about my latest Pulitzer-prize winning book, but I will keep plugging along, trying to get a little better every day, and taking those baby steps toward perfection.
2011 is The Year.
Author's note: And speaking of imperfect, that's a photo of some mutant carrots we grew in our garden. They still tasted delicious – but they were a little hard to peel.