About Tracy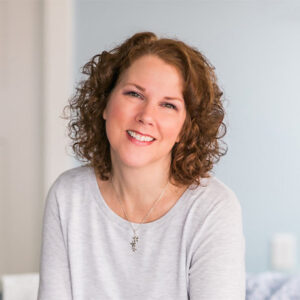 Hello and Welcome!
Thanks for stopping by my website – the place to learn a little bit about me, my writing career, and the stories I love to tell.
My first two books – Crazy Little Thing and Highland Surrender – both came out in 2012, but if you've read them (and I hope you have!) you know they're very different styles.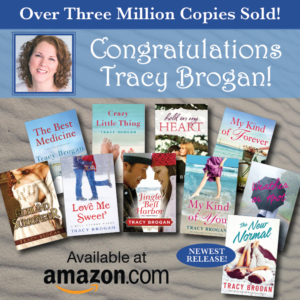 Crazy is a contemporary romantic comedy bursting with hi-jinks, misunderstandings, and some overly involved relatives who know how to put the "F U" in dysfunctional. It features a slightly neurotic heroine and a dreamy Scottish hero.
Highland Surrender is a lush historical romance rich with scheming royal intrigues, wild misadventures, steamy love scenes, a bold, fierce damsel causing distress… and a dreamy Scottish hero. (Doesn't every book need a dreamy Scottish hero?)
Although I'd always planned to write historical romance, I took a slight detour in 2013 and focused my energy on the contemporary rom-com market, penning (in addition to a few stand-alone titles) the Bell Harbor and Trillium Bay series, both set in re-imagined versions of my favorite Michigan locations. It's no secret that Trillium Bay is actually Mackinac Island, a place where cars were banned in the late 1800's and to this day are still not allowed.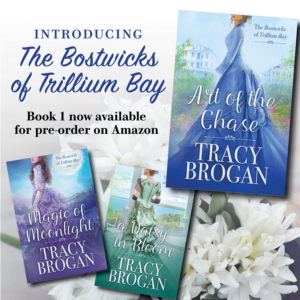 In 2023, after completing ten contemporary stories and novellas (along with raising my above-average children, getting continually outsmarted by my dogs, moving a few times, dealing with life being lifey) I am thrilled to report I am finally back to writing historical romance!
And since Trillium Bay is a favorite setting of mine, I've decided to return. My new series, beginning with The Art of the Chase, is set on the island during the gilded days of 1888. It features the Bostwick family – Chase, his twin brother Alex, and their younger sister Daisy – each with their own love story to tell. These are breezy, historical romps with enough twists and turns to keep you guessing, and enough heart-tugging romance to satisfy your longing for happily ever after.
When I'm not writing, I like to fill my time with… just kidding. I'm always writing. And I'll keep writing as long as you lovely people keep reading! There is no greater reward than to hear "I loved your book!" It's what inspires me to create stories full of ordinary people discovering extraordinary love. So, thanks for stopping by this page!
Love and Smooches,
Tracy