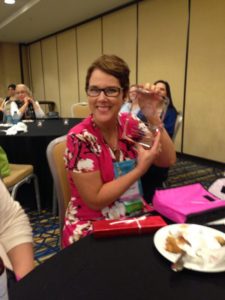 I have been sadly remiss in blogging!  Turns out moving from one house to another is a special kind of joy/misery that takes up a lot of time. Not to mention creating frequent, extended bouts of having (*gasp!*) no internet connection!
But the good news is THE BEST MEDICINE, a Bell Harbor Novel, will be available May 13th, 2014!  I'm excited about revisiting some old friends in that story and hope readers are, too! I'll be sharing more about that over the coming weeks.
In other news, CRAZY LITTLE THING is now available in German. It will soon be available in French. Merci!
HIGHLAND SURRENDER is being translated into German and Japanese. Can't wait to see that!
And speaking of HIGHLAND SURRENDER, here is a picture of me winning the Booksellers Best Award in the Historical category. What an honor! I'm was also thrilled to win the Golden Quill contest for both HIGHLAND SURRENDER and CRAZY LITTLE THING.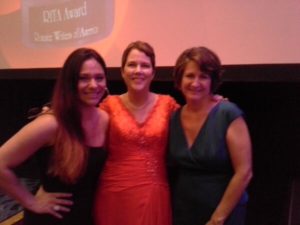 And here I am with two of my fabulous critique partners, Kimberly Kincaid and Jennifer McQuiston at RWA nationals – where I did not win a RITA 🙂 Ah, well. It was an amazing conference and I'm already looking forward to next year.
So, thank you, dear readers, reviewers and book buyers, for making my books part of your day!