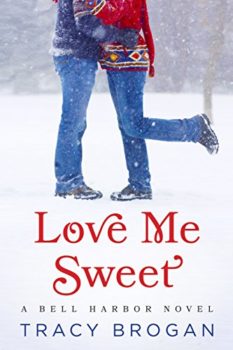 Bell Harbor #3
Audio, e-Book, Trade Size
January 20, 2015 Montlake Romance
Love Me Sweet
Bell Harbor is a one-million copy bestselling series.
Delaney Masterson isn't looking for fame.
Yes, she has famous parents and a reality TV show, but she's not the wild-child celebrity the paparazzi have painted her to be. Until…The Scandal. When an old boyfriend releases a private video, Delaney's name becomes every comedian's favorite punch line. To escape the media, she sneaks away to Bell Harbor, Michigan—during the worst winter in fifty years.
Adventure show cameraman Grant Connelly has stayed away from Bell Harbor—mostly by choice—but when a family obligation converges with a spontaneous career decision, it's time to return home.
When bad weather, missing money, honky-tonk musicians, and Elvis impersonators throw Grant and Delaney together on an unexpected road trip, emotions get all shook up. They know only fools fall in love, but they can't help falling. Still, Delaney has a secret that could tear them apart forever.
Can they weather the storm? Or will this romantic ride end at the Heartbreak Hotel?