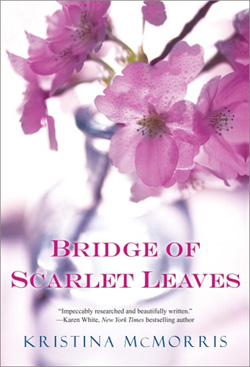 Last September, I posted an interview with the lovely Kristina McMorris, author of the highly praised "Letters From Home." Inspired by her grandparents' WWII courtship, her debut novel, Letters from Home, was praised as a must-read by Woman's Day magazine and "a sweeping debut" by Publishers Weekly. The book achieved additional acclaim as a Reader's Digest Select Editions feature, a Doubleday/Literary Guild selection, and a 2011 Goodreads Choice Awards semifinalist for Best Historical Fiction.
Today I'm so excited to share the news about her latest release, "Bridge of Scarlet Leaves."  In this, her second book, McMorris skillfully captures one of the most controversial episodes in recent American history, drawing readers into a novel filled with triumphs and heartbreaking loss–an authentic, moving testament to love, forgiveness, and the enduring music of the human spirit.
Here is a description:
Los Angeles, 1941. Violinist Maddie Kern's life seemed destined to unfold with the predictable elegance of a Bach concerto. Then she fell in love with Lane Moritomo. Her brother's best friend, Lane is the handsome, ambitious son of Japanese immigrants. Maddie was prepared for disapproval from their families, but when Pearl Harbor is bombed the day after she and Lane elope, the full force of their decision becomes apparent. In the eyes of a fearful nation, Lane is no longer just an outsider, but an enemy.
When her husband is interned at a war relocation camp, Maddie follows, sacrificing her Juilliard ambitions. Behind barbed wire, tension simmers and the line between patriot and traitor blurs. As Maddie strives for the hard-won acceptance of her new family, Lane risks everything to prove his allegiance to America, at tremendous cost.
And here are some early (and glowing!) reviews:
"This gripping story about two 'brothers' in arms and a young woman caught in between them hits all the right chords."
— Publishers Weekly
"A sweeping yet intimate novel that will please both romantics and lovers of American history."
— Kirkus Reviews
"Rich in historical detail, peopled with well-developed characters, and spiced with tension and drama, Bridge of Scarlet Leaves is a novel to savor, and then to share with a friend."
— The Historical Novels Review
"A wonderfully poignant tale… this WWII novel has a refreshingly different point of view."
— RT Book Reviews
"Readers of World War II fiction will devour [this] poignant, authentic story…"
— Jenna Blum, international bestselling author of Those Who Save Us
"An unputdownable love story…[McMorris'] attention to detail is meticulous, the East meets West clash between cultures–revelatory."
— Lesley Kagen, New York Times bestselling author of Good Graces
"Impeccably researched and beautifully written…I highly recommend this book!"
— Karen White, New York Times bestselling author of The Beach Trees
"A beautiful, timeless love story…McMorris' words reach right of the page and grab at your heart."
— Sarah Jio, author of The Violets of March
Kristina McMorris is an award-winning author and graduate of Pepperdine University. A weekly TV host since age nine, including an Emmy Award-winning program, she lives in the Pacific Northwest with her husband and two sons.
Bridge of Scarlet Leaves is a must-read for any lover of American history, World War 2 history, or just great literature in general.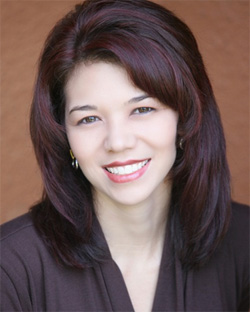 Author links:
Facebook: www.facebook.com/Kristina.McMorris
Twitter: www.twitter.com/KrisMcMorris