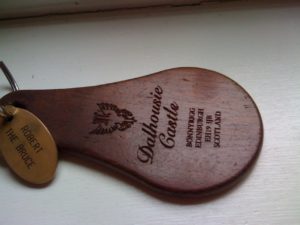 Last April, a friend of mine got married in Bath, England. Like me, her name is Tracy. Like me, she grew up in Michigan. But after college, she moved to the United Kingdom and was swept off her tootsies by a proper British gent with a lovely accent and some wicked-mad cooking skills. When they announced their plans to hold the wedding at a 12th century chapel nestled amidst the rolling hills of Somerset, I officially became more excited than the bride.  Not only would I get to experience a charming bit of merry Olde England, you see, but my family and I were also going to travel up to Scotland. My dream come true! (Second only to getting published.)
I consider myself a Celtic-hybrid-transplant, one of those thoroughly American suburbanites who wonders if I might have been born in the wrong time and place. Right now, I could be wearing an ermine-trimmed gown of velvet, doing needlepoint in a drafty castle. Not sitting at a computer, listening to an ipod and drinking pumpkin-spice coffee. In fleece pants, no less. I will ardently defend my belief that Scots invented everything worth inventing.  Like the telephone, the television, the bicycle, penicillin. The Raincoat!  (The next time you're watching your kid play soccer in the rain and you're NOT getting wet – thank a Scotsman.) Some of this adoration I blame on cheesy Hollywood movies, and some I blame on the fact that my father was born in Glasgow. Either way, I am a Scottish American misfit.
For years I told my husband I wanted to spend the night in a Scottish Castle. And so, after a sublimely spectacular weekend celebrating the bride and groom's nuptials, we headed north, toward Edinburgh and Dalhousie Castle.  (You owe it to yourself to google their site, if only to see the photos.) The original castle was built in the 13th century but other than the thick walls of the foundation, much of what remains is from the 1450's. Still pretty damn old, if you ask me.
Upon arrival, we were met at the door by a crooked old man named Angus whose brogue was so thick my kids thought he was just clearing his throat. He escorted us up three flights of stairs to our suite, The Robert the Bruce room. Who knew Heaven was only three flights up?  It was perfect, full of dark, heavy, furniture and a huge, ornately carved bed with a tartan canopy and velvet curtains. Velvet curtains! We ate dinner in The Dungeon Restaurant which was, oddly enough, built in the dungeon. Suits of armor lined the hallways, and the lobby had a fireplace big enough to park Prius inside.
After a dinner of quail and watercress, we tucked the kids into bed and my husband and I went downstairs to the library/bar (because in Scotland, every room is a …/bar). We met a wonderful middle-aged couple (who may have only been in their thirties but the woman had a kind of Susan Boyle quality to her which made age hard to pinpoint.) They told us we MUST take the midnight ghost tour.
And so we did.
Peter the night porter was gaunt and sallow, dour, yet gracious. He guided us through the dark castle in search of otherworldly apparitions, down twisting staircases and into tiny rooms with inexplicable shadows. We ventured into the chapel, where a certain Lady ghost lingers most evenings (according to him) but sadly she was a no-show for us. I suggested he might just be pulling our American legs but he assured us he was not. And hey, everybody knows a Scotsman never embellishes a story. Then I mentioned our kids were sleeping in The Robert the Bruce room. His face sunk deeper into his cheeks, his eyes more protuberant. In his thick, quivering voice he whispered, "That's a more haunted spot than any of the others. But it's only The Bruce going up and down a staircase. He won't bother you."
Um, I can pretty much guarantee, if I saw him, it would bother me. And so I thanked our guide profusely and dragged my husband to our room, where we found our daughters sleeping, sound and peaceful.
The next day we had a Falconry lesson, which I never would have tried if I didn't have a 14th century character in mind who is alpha-macho but secretly afraid of hawks. It was the best part of our entire European Vacation. My husband, kids, and I each had a turn feeding a huge, gorgeous hawk while it rested on our arm. And the instructor gave me all sorts of wonderful tidbits about falconry and royalty that I would have never known to even ask about. It was so fun I wish I could keep a falcon at my house. But I'm afraid he'd eat our dog.
This was only one night of our United Kingdom adventure but it was fabulous. And I have to save the other stories for another blog. So, until then…
Ceud Mile Failte…   A Hundred Thousand Welcomes…