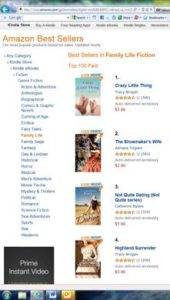 I am pleased to report I have not one, but TWO books at the top of several Amazon sales lists.
In the category of Best Selling Family Life Fiction, CRAZY LITTLE THING is #1 and HIGHLAND SURRENDER is #4. That certainly makes my family life happy!
CRAZY LITTLE THING is also #1 in Domestic Life Fiction and #5 in Contemporary Romance.
HIGHLAND SURRENDER is #2 in Historical Romance.
And (*cue drum roll*) in the Top 100 Best Selling books on Kindle across all genres, CRAZY LITTLE THING is #8, and HIGHLAND SURREND is #89!
Thank you, book buyers, for loving these books!