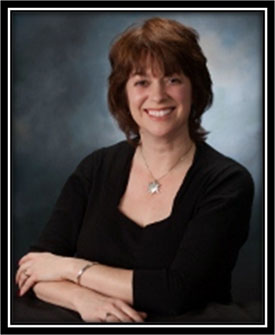 Once upon a time, someone very wise asked me, "Have you read any books by Kristan Higgins?"
I had not, but I decided to give one a try. Two pages in and I was hooked. Sweet, funny and believable heroines – the kind of women I would invite over for wine and movie night. And sexy, silly, delicious heroes. The type of men you think your significant other COULD be, if only you'd never seen him in ratty sweatpants. Today I have the privilege of interviewing Ms. Higgins for this edition of "Interview an Awesome Author."  Kristan is a New York Times and USA Today Bestselling author and two-time RWA RITA® award winner. She gives a great acceptance speech, and is as charming in person as her characters are on the page. As she says on her website, "I love to write books about relationships, since the search for love and security is one of the driving forces of life. My characters are regular people, folks like us, and I hope to give them a big, memorable love story rich with family, pets, food and laughter
TB:  Kristan, thanks so much for visiting today! Please tell us, how long have you been writing and at what point in your career did you feel confident in calling yourself an author?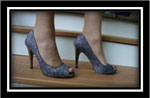 KH:  Oh, do we get to be confident? Something to look forward to! I jest…I think writer is a better word than author, and I distinguish between the two. The author gets to go out and dress up and wear sparkly shoes, whereas the writer sits in a worn out chair with her dog and types and mutters. I've been writing for nine, almost ten years. But whereas I acknowledge that I have a career as a writer, and eight books behind me, I never take for granted that I'm entitled to this job. I have to earn it with every book.
TB:  I've seen you in the fancy dress and sparkly shoes. You clean up nice! But I'm glad to know you're not wearing high heels at home. Who was the first person you contacted when you learned your first book had been purchased by a publisher? What was that conversation like?
KH:  You know what? I was alone when I got the call from my agent, and when I hung up, the first person I "told" was my dad, who died many years ago. Something along the lines of, "Hey, Daddy, guess what? I'm gonna be a writer." He always had such faith in all three of us kids, and he was a wonderful storyteller. My first book is dedicated to him, because without his example, I don't know that I would've believed in myself to even start the process.
TB:  That is wonderful, and I can relate. My father passed away when I was fourteen, but I remember him telling me when I was little that I should just make up stories in my head until I feel asleep. Of course that sort of backfired because now I have to get up and write those ideas down! What a five things (not including live beings) would you take with you to live on a deserted island for one year. Let's say this island has food, shelter and plumbing! Like St. Thomas.
 KH:  Oh, I like this island! Let's also assume it has Wi-Fi, okay? So I'd take my Kindle (of course!); a hard copy of Gone With the Wind; sunscreen (ever practical); a radio that got Yankee games; and a set of paints, because I've always wanted to try painting.
TB:  That's funny, because the very first book I loaded onto my Kindle was Gone With the Wind!  It is sort of irreverent to read it that way, isn't it?  The hard cover is always my favorite choice.  What are a few 'myths' about being a writer that you'd like to dispel?
 KH:  That if you're a writer, books just come to you in some magical fashion because you've been tapped by the muse. I have no muse. I never have. Muses avoid me. I must not pay well enough. Also, the notion that I can just "crank 'em out." Writing is not like factory work, whether you write six books a year, like Nora Roberts or James Patterson, or whether you write one book in six years. It takes a lot of heart and soul-searching and thought.
TB:  There you go, changing my life again. I've spent a lot of time waiting for my muse to come back. Now you're telling me I have to just sit down and write using my own imagination? Okay, I'm kind of kidding. But it is a relief to know that veteran writers still have to push and struggle a bit. Not that I want you to have to work harder!  It's just good to know that the secret formula is perseverance – and talent, of course! Tell me something most people don't know about you and would be surprised to learn.
 KH:  I dream about the dead a lot. Family, friends, my accountant's wife…they seem to visit me when I'm asleep. They're always lovely dreams, too.
TB:  I have some recurrent themes in my dreams, too. Richard Dreyfuss. He shows up a lot. And folding chairs. I think maybe I should see somebody about that. Anyway, what is your all-time favorite movie and why?
 KH:  Hmm. I have a lot of favorite movies: The Natural was the one that leaped to mind first, so I'll go with that one today. Baseball, the aging hero, luscious backstory…the moment when Bobby picks out the new bat for Roy's last chance to win the game for his team (New York, of course). I'm usually sobbing at that point. Did you know the short story ended differently? This is, in my opinion, one of those times when the movie is better than the book.
TB:  Your love of baseball is well documented. I see on your website that your nickname is Mrs. Jeter. I guess I won't mention that the Detroit Tigers just beat the Yankees….. (Is it in poor taste to taunt one's interviewee?? Sorry, I'm from Michigan and we don't get to brag too often!)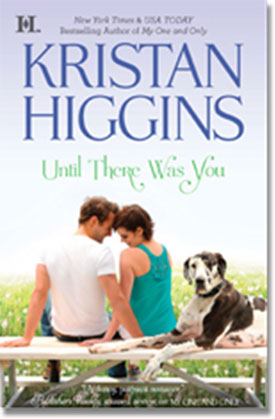 Kristan, I can't wait for the release of UNTIL THERE WAS YOU, October 25, 2011. Best of luck for your continued publishing success (not that you need luck!) and thank you for sharing your time and story with us today.
Learn more about Kristan at http://www.kristanhiggins.com/ (like what type of tiny creature she's afraid of, and how she met her McIrish husband.) And if you haven't read one of her books, get thee to the kindle store and load yourself up. You'll be so glad you did!