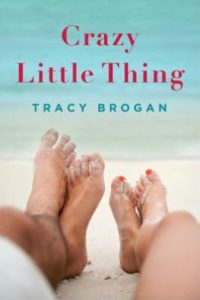 As the old saying goes, you shouldn't judge a book by its cover. Well, I say go for it.
Judge these books by their equally delicious and engaging artwork. I am beyond thrilled by the beachy-fun cover created by the Montlake team for my debut novel, CRAZY LITTLE THING.
This book is about relaxing, having a great laugh, and hopefully snuggling up next to the one you love. And if you happen to fall for a guy with pretty decent looking feet and non-gnarly toenails, even better!
I am also tingly, tantalized, and totally overjoyed by this sultry cover design for my historical romance, HIGHLAND SURRENDER.
This is the story of two strong-willed warriors, each hoping to seduce the other into giving up their heart, for as Myles tells Fiona, "In this battle, surrender and victory are one and the same."
But what happens next is not at all what he expects. Find out what occurs between these stubborn, endearing, passionate Scots.
Set amidst political intrigue, family betrayals, and an age-old secret, HIGHLAND SURRENDER will keep you guessing until the very end.