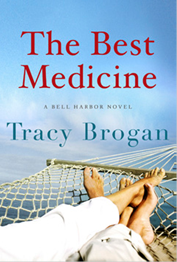 Release day is May 13th for THE BEST MEDICINE!
Dear readers, I'm so excited to share with you the story of Tyler and Evie and their sweet and clumsy path toward happily ever after.
Everyone in Bell Harbor thinks career-minded plastic surgeon Evelyn Rhoades needs a husband. Everyone, that is, except for Evelyn…sort of. Even if she did want a husband (which she doesn't…most of the time), she'd never let something as intangible as fate determine who she marries. No, if she's going to find someone to spend her life with, she'll do it scientifically: with a carefully crafted list of criteria and an Internet dating site.
But when intoxicated, law-breaking Tyler Connelly crashes into her life by way of a stolen Jet Ski, unruly emotions defy common sense. Sure, he's sexy, charming, and determined to win Evelyn's affection, but all evidence points to him being the worst possible choice. He's too young . Too irresponsible. Too underemployed. And, oh yeah, he's her patient.
But Tyler knows firsthand how the best-laid plans can crumble under the weight of destiny. Now all he needs to do is to teach Evelyn that, in matters of the heart, love often supersedes logic.
Early readers are responding to this story with praise and enthusiasm!! (Thanks!!)
I was lucky enough to read the uncorrected proof of this book. Tracy Brogan has been one of my favorites authors since her first book: "Crazy Little Thing". This one is just as good. I laughed, cried and stayed up til the wee hours of the morning reading, because it's simply THAT great. It's a MUST read. Thank you, Tracy!

Once again, Tracy Brogan has made me fall in love with Bell Harbor and its inhabitants. There were so many parts that were laugh-out-loud funny and I love a book that makes me laugh while also making me fall for the characters. I would highly recommend The Best Medicine as a great summer read! 
This book was perfection. I really loved the character development by the author. She made each character seem like someone I wanted to meet in real life. The range of emotions I felt while reading this book was surprising.
I frequently laughed out loud at the witty humor of the author. My eyes filled with tears at the difficult life situations of the main characters, Evelyn Rhoades and Tyler Connelly. My stomach churned at the awkward dates Evelyn endured. The author took me on an emotional journey I was not anticipating. I highly recommend this book for lovers of any romantic genre.
I hope everyone who reads THE BEST MEDICINE enjoys a few laugh-out-loud moments, and falls in love with Bell Harbor (and with Tyler and Evie, too!)
I'll be at the Romantic Times Convention in New Orleans, May 13-18 so if you're in the area, please stop by and say hello!!
On May 22nd, I'll be signing books at Schuler's Books and Music at 7pm. (28th Street location) and I sure hope to see lots of familiar faces that evening!!