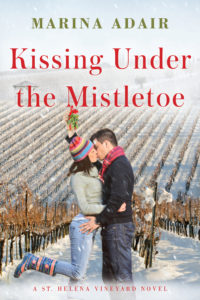 Welcome to Interview an Awesome Author! Today I have the divine pleasure of chatting it up with Marina Adair. Her most recent release, KISSING UNDER THE MISTLETOE, is perfect holiday fare (and potential stocking stuffer!) Just ask RT magazine who gave it a 4-Star review and said: This book, sentimental in a way that only Christmas romances can be, is a great holiday read. The story features a strong, single mom who only wants the best for her child, and a sexy man who needs to be reminded what is really important in life. With a lot of teasing and a quirky set of characters, readers will thoroughly enjoy this book and eagerly await more in the series to find out what is in store for the rest of the DeLuca clan.
Sounds utterly enticing, doesn't it? Adair's fresh and sexy writing style can also be found in TUCKER'S CROSSING (2012) and her future releases, SUMMER IN THE VINEYARD, and BUT SUGAR'S TWICE AS SWEET. Marina, who lives in a century-year-old log cabin, nestled in the majestic redwoods of the Santa Cruz Mountains, with her husband, daughter, three kitties, eleven chickens, and the occasional wild turkey, took time away from her whirlwind schedule to tell us a little bit about herself and her work.
TB:  Thanks for stopping by, Marina! Please tell us about your most recent release and which aspect of this particular story do you love the most?
MA:  First off, thanks for having me here today, Tracy! As for my latest book…
KISSING UNDER THE MISTLETOE, is about two sworn enemies, who can't seem to keep their hands off of each other, living in the same small town where neither is willing to move. Regan Martin is a single-mom looking for a fresh start and Gabe DeLuca is a smooth talking vintner who can't decide what tops his Christmas List: Regan's sweet ass swishing right out of his town or waltzing toward his bed in nothing but a red bow.
I love that Regan is a fierce mom who is willing to do whatever it takes to make sure that her daughter gets her Christmas wish of a forever home. But my favorite part of this story was seeing how far I could push Gabe and Regan before they were able to let go of their tumultuous past and give in to the chemistry between them, because I knew that if they stopped arguing long enough they would see how perfect they are for one another.
TB: That sounds feisty and delicious!! What are you working on now?
MA:  I just finished the second book in the St Helena Vineyard series, which releases April 16, 2013. SUMMER IN NAPA follows renowned chef, Alexis Collins, who had lived her life right—right guy, right college, right career . . . right up until she finds her husband trussed up like a Thanksgiving turkey while trying to play hide the baster with her sous chef. Divorced and humiliated, Lexi moves back home ready to rebuild her life and convert her grandmother's patisserie into her dream bistro—until she realizes that her new neighbor is none other than her ex-husband's best friend, Marco DeLuca, and he is interested in sampling more than just her cooking.
This book was so much fun to write because my hero and heroine are not only fighting the need to get naked every time they see each other, they are also fighting against their past. So finding a good reason for Marc to break man-law and fall for—and into bed with—his best-bro's ex was entertaining.
TB: Not to mention saucy and delightfully complicated!  Who was the first person you contacted when you learned your first book had been purchased by a publisher? What was that conversation like?
MA:  I screamed and cried with my agent, then hung up the phone and turned around and there was my husband, standing there, tears streaming down his face. And I've got to tell you, seeing a big, bald, bad-ass Italian with a bakers-dozen of tattoos bursting with pride was worth every rejection along the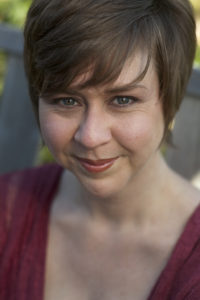 way. We just clung to each other and cried.
TB: That is utterly romantic and sweet. Nothing like bringing an alpha-male to his softer side. I love that!  Changing gears here, because I'm hungry. What is your go-to snack of choice when your characters are ignoring you?
MA:  Easy. Eggo Waffles with lots of butter and lots of syrup—Mrs. Buttersworth to be exact.
TB:  I'm with you. Waffles are merely a delivery system for the syrup! What is your favorite board or card game? Are you competitive?
MA:  Disclaimer: I was sick a lot when I was a kid so I spent an obscene amount of time with my grandma and her cronies.  My secret…I LOVE old-folks past-times: Skippo, Hand and Foot, Yahtzee, Kings Corner, Dominoes, you get the picture.
As for the competitive part, hell no, my grandma is as well-known for her buttermilk biscuits as she is for cheating, so if winning was anywhere on my agenda I would have given up all games by age five.
TB:  Your sweet, little Grandma sounds like Aunt Dody from my book, CRAZY LITTLE THING. I love feisty, mature ladies! What advice would you give to an aspiring, newbie writer?
MA:  Be adaptable. Six of the first seven books I sold were not what I went in to the story intending to write. Opportunities arose, markets shifted, editors asked for specific stories, and I had to decide: stick to the path that I outlined or switch gears. I muzzled my ego, adapted as quickly as possible and finally started selling.
TB:  That is a hard-fought lesson to learn, to adapt to the market while keeping your voice. Big congratulations to you on mastering that! What advice have you received that has been particularly helpful?
MA:  My kick-ass mentor (who is also a talented screenwriter) said that writers write, period. So if I wanted to be a writer I had to park my butt in the chair and do the work and eventually I'd get there.
The additional step that I would add is to read—and read A LOT! If someone wants to succeed in ANY industry they need to know what is selling. The best way to do that in publishing is read authors who are succeeding at what you dream of spending your life writing.
TB:  I have found that to be true, also. I dissect everything I read now. What do I love about the story, what would I change? It's hard to read without noticing plot devices but I know a great story is one where I forget to look for that stuff because I'm engaged in the story. Tell me something most people don't know about you and would be surprised to learn. (Like maybe you play the ukulele or accordion. Or maybe you have a photographic memory, or something like that.)
MA:  My favorite pet growing up was a cochin chicken named Princess. We used to snuggle on the couch and watch Highway to Heaven, Remington Steel and Magnum PI. She had a thing for Michael Landon, I was girl-crushing hard on Tom Selleck.
TB: I was definitely a Remington Steel girl. Tom Selleck was cute but the mustache was distracting! But probably not as distracting as trying to watch TV with a chicken. That is random. What is your all time favorite movie?
MA:  IMPOSSIBLE QUESTION! Narrowing it down to one movie is like asking me to choose between kids—the exact reason I only have one! But let's see: Clueless, Emma, A Major and a Minor, You've got Mail, Sabrina, French Kiss, Never Been Kissed…pretty much any movie where the quirky heroine, who is working toward accomplishing her dream, suddenly finds herself in an awkward and embarrassing situation at the precise moment she meets her true love.
Like in Bridget Jones's Diary when Bridget chases down Darcy. I mean, the poor girl is a hot mess, sprinting through the snow in her underwear and running shoes to apologize…in the most confusing way….only Mr. Darcy already knows that diaries are full of crap and he has bought her a new one…and when the old ladies harrumph at her choice of wardrobe, Darcy doesn't cover her up with his coat, he kisses her, right there on the street corner, accepting her for exactly who she is.
Excellent choices. Now I need to go watch all those movies! Thanks so much for visiting today, Marina. I love watching your books scramble up the Amazon Best Selling ranks!
Marina Adair is a lifelong fan of romance novels. Along with the St. Helena Vineyard series, she is also the author of Tucker's Crossing, part of the Sweet Plains series. As a writer, Marina is devoted to giving her readers contemporary romance where the towns are small, the personalities large, and the romance explosive. She also loves to interact with readers and you can catch her on:
Marina will be giving away an autographed ARC of Kissing Under the Mistletoe to one very lucky commenter. (US residents only, please.)
BOOK BLURB for KISSING UNDER THE MISTLETOE!
Regan Martin stopped believing in Christmas miracles six years ago when she lost everything—her house, her job, and her impeccable reputation in the wine industry—after she fell in love with a man she had no idea was married. Then Regan gets a chance for a fresh start in the Napa Valley. With her dream job, dream home, and her daughter enrolled in a wonderful new school, she starts wondering if holiday wishes really do come true.
But she soon tumbles back down to earth when she learns that her new boss is none other than Gabe DeLuca, the scorned wife's brother. Gabe wants nothing more than home-wrecking Regan Martin out of his life, his sister's world, and his family's business. Mostly, he wants the lush beauty out of his head. Yet his attempts to run her out of town have him thinking twice, especially when he sees that Regan may hold the key to tracking down his sister's stolen start-up capital. Even worse for Gabe, Regan might just be his Christmas wish and hold the key to his heart.