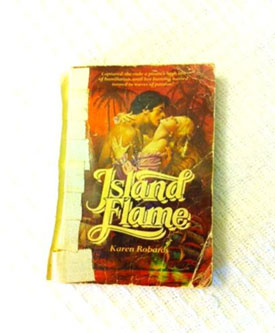 I remember my first time like it was yesterday. I was sixteen. Much too young to be doing what I was doing. But there was this smokin' hot pirate who I simply couldn't resist. I'm talking about, of course, reading my very first romance novel. Wait… what did YOU think I was talking about? Well, anyway, the memory of Jonathan Creighton Hale and his lust for Lady Catherine Aldley still burns in my mind.
You see, my mother, two older sisters, and I were driving to Disney World. Imagine, for a moment, four mostly grown-up women crammed into a Chevette, driving straight to Orlando from Grand Rapids, Michigan. Nothing says family vacation like a relaxing twenty-two hour ride in a tiny backseat. But we were ecstatic because we were embarking on our first visit to the Magic Kingdom. All our collective lives we'd been looking forward to that trip. After driving through the night, past Ruby Falls, and Macon County, we were giddy with exhaustion and excitement, not to mention hopped up on Tab and Little Debbie cakes.
Although each of us had a driver's license, my oldest sister drove the entire way. Why? Because my middle sister was more interested in finding Hall & Oates on the radio, I'd only had my permit for a couple of weeks, and my mother couldn't turn left. We didn't have the yet-to-be invented GPS or On-Star. We had maps, and something from AAA called a Trip-Tick. We didn't have game-boys, iPods, cell phones or even a cassette player in the car.  It was a Chevette, remember? So the only form of entertainment we had was the radio (gasp!), conversation (aka bickering), or reading. Luckily, a quick stop at an Indiana gas station provided me with a life-altering option. On a rickety wire shelf sat a motley selection of books. Now, we all know how sixteen-year-old girls are nothing if not adaptable, easy-going, simple to please, the list goes on. So needless to say, I was not impressed with the reading selection.
Until one titillating cover caught my eye.
A shirtless man (who bore a striking resemblance to Erik Estrada) was clutching a bosomy vixen against his muscled torso. (She looked like Cheryl Ladd. It was the 80's, people. Work with me, here.) Looking at the cover art, you couldn't quite tell if she was pulling him closer or trying to push him away. The tag line read, "He claimed her as his pirate's prize – then humiliated her as only a pirate can humiliate a lady." "Hmm," I says to myself. "That sounds interesting." So I surreptitiously purchased the book while my mother used the restroom, and I snuck it back to the car.
My secret was soon revealed. As I read, I giggled, I gasped, I flushed, and I sighed. And I finally had to confess what I was reading. I told them about the captivating adventure of Lady Catherine and her untamed pirate (who was secretly a duke, because, come on! Aren't they all? I mean who wants to read about a pirate who's really nothing but a scalawag?) I read aloud lines like, "Yes, she was drunk. Drunk on the heady nectar of his love." The book, Island Flame by Karen Robards, is a bodice-ripping cheese-fest at its absolute finest. And I say that with the utmost of affection. (If you never had your bodice ripped, you owe it to yourself to give it a whirl.)
When the gleaming spires of the Magic Kingdom came into view, I asked my sister to please drive a little slower because I wasn't putting that book down until it was finished. I blissfully soaked in the final paragraph just as she put the car in park. Life was good.  A few hours later, my heart raced, giddy with joy once again as I climbed into a little fiberglass boat and set off on my own adventure with the Pirates of the Caribbean. The boat bobbed precariously, water splashed, and the hiss and pop of gunfire sounded in the distance. We floated blithely from the cave to suddenly find a huge pirate ship bearing down on us!  Cannonballs lobbed into the water, each one closer than the next. And I couldn't help myself. I yelled out, "Don't shoot, Jon! It's Cathy!" And my own mother pretended not to know me.
My copy of Island Flame is held together with dingy surgical tape. The pages are yellow and crackle when you turn them. Yet, I still love this book. It was the first one which truly swept me away to another place (okay, besides Narnia, maybe) and made me want to write. To write about passion, and about history. To elicit powerful emotions and tell an extraordinary story about men and women who might have lived in another time, but loved like there was no tomorrow.