Today I'm excited to chat with Nancy Naigle, author of SWEET TEA AND SECRETS, the first of her novels set in the fictionalized small town of Adams Grove. WEDDING CAKE AND BIG MISTAKES will be available in Spring 2013. Her other books include the suspenseful OUT OF FOCUS, and INKBLOT, a young adult novel.
Nancy, it's great to see you here!
NN: Hey gal!! Thanks for having me.
TB:  Please tell me a little bit about your most recent release and which aspect of this particular story do you love the most?
NN:  Sweet Tea and Secrets was released by Montlake Romance at the end of September.  It's a love story set in the small town of Adams Grove.  Oh gosh, which part do I love the most? That's so hard. I'm going to have to say Pearl Clemmons. She's one of those sassy gals in her eighties that's earned the right to say whatever is on her mind. She's influenced the whole town with her blue-ribbon baking and the best unsolicited advice in the county.
TB:  Oh, I always love the sassy, old ladies! What are you working on now, or plan to begin next?
NN:  I just finished edits on my spring release, Wedding Cake and Big Mistakes. Now, I'm working on the follow-up to Out of Focus. This one is about Cody Tuggle, the country western singer, and it's my favorite book yet. Cody's such a wonderful character to write and I think y'all are going to fall in love with him all over again. Makes my heart beat a little faster just thinking about it.
TB:  I tend to fall in love with all my heroes, too! That's the best part! At what point in your career did you first feel confident in calling yourself a writer?
NN:  Once I'd placed in a contest I started believing that I might actually achieve the dream of being published. I called myself a writer after that point. It's hard because even then the lead-time to having a book for sale is so long that the question "When can I buy your book?" gets really old and very embarrassing.  But you know, in reality, it's not publication that makes you a writer – it's the writing. I think because I was tagging the term "writer" as being equivalent to my dream of being a published author I made it harder on myself.
TB:  I think many of us had that same concern. I knew in my heart I was *a writer* but it felt awkward trying to explain to people that there is a big process that occurs from the time you type Chapter One to the time you hit the bookshelves. What inspires you? Books? Music, People magazine's most beautiful people edition?
NN:  People. I love listening to people tell their stories. I get inspiration from the simple tales people share. My mind jumps to "what if…"
TB:  Hah! I do the "what if…" as well. Sometimes it even happens when I'm looking at an old building and I imagine what might have happened there before. What techniques do you use to help develop your story? (Storyboarding, outlining, daydreaming, interviewing your characters? Having a psychic reading for a character?)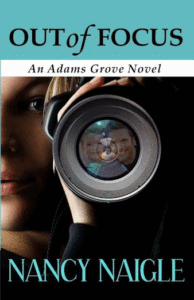 NN:  I've learned that my technique varies every time, but I do like organization so recently I treated myself to this adorable set of cherry bleachers. You can slip index cards in the graduated slots and see your plot and pov shifts. It's helpful to have it in view. I don't do a board with pictures or anything like that – but I do like the little snippets in my line of sight. I often have ideas just looking at them, then I just jot the ideas on the cards so I don't forget them.  The only thing consistent with my process is – "sit down and start typing."
TB:  Actually "sit down and start typing" is really good advice. Sometimes we can get so caught up in what is the "proper process" that we lose site of the story. If you had to choose a 2nd genre to write in, what would you pick? What would the title of that book be?
NN: It wasn't a project by myself, but I did write a Young Adult suspense with another author. It's called inkBLOT.
TB:  I like the title! Describe a perfect writing day.
NN:  My perfect writing day is one that I don't have to work my day job. I get up at seven, grab a cup of coffee, and spend my wake-up time scanning email and facebook. Then, with my black lab, Hunter, at my feet I start writing. I break at lunch time and get out of the house to run an errand or play with the goats on our farm. After that I write for a couple more hours. At the end of the day, update my files, set my goals for the next day.
TB:  What did you do to celebrate your first release day?
NN:  Watched my ranking, and prayed that someone would find my book among the thousands and thousands out there to choose from.
TB:  Watching those rankings is a maddening pastime, isn't it??? What/where was your first writer's conference and how did you feel attending it?
NN:  Atlanta RWA 2006. Crazy, right? It was so exciting. I didn't know a single person and it was my birthday weekend. I was so excited to be in the same room as so many authors that I loved to read.
TB:  What advice would you give to an aspiring, newbie writer?
NN:  Finish the book, then finish another. Never give up. Tenacity is the number one ingredient to making it!
TB:  Tenacity is key!! I thought about quitting every day in between my first and second manuscript. Then they both sold! Thank goodness I kept going! What advice have you received that has been particularly helpful? NN:  Take your time. That's a really, really hard one for me, but it's true.
TB:  What are a few 'myths' about being a writer that you'd like to dispel? (Aside from the one about us making loads of money!)
NN: That we're all talking to invisible people and a little crazy. We're not. Okay, well not all of us are 😉
TB:  Uh-oh. I might be in trouble then. Tell me something most people don't know about you and would be surprised to learn. (Like maybe you play the ukulele or accordion. Or maybe you have a photographic memory, or something like that.)
NN:  I absolutely love the Barrett-Jackson Auctions. Those cars are so neat. I love the work that went into them, and the stories behind them. I could sit in front of the television and watch all day the whole week – oh, I do!!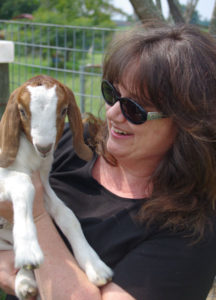 Nancy Naigle writes love stories from the crossroad of small town and suspense. After spending most of her life on the Virginia coast, Nancy and her husband left Tidewater for greener pastures further inland. They now live on a 76 acre goat farm where Nancy juggles a career at a major financial institution with her love for writing. She spends every spare moment working on her next book in hope that readers will find a little life balance in the pages of her stories.
Visit Nancy at her website at: http://www.nancynaigle.com/