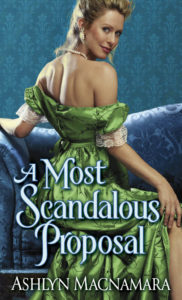 Welcome to ON THE RECORD where I chat with romance authors about their favorite topics, which usually includes writing but almost always includes handsome men!
Welcome, Ashlyn Macnamara, debut author of the fun and sexy a MOST SCANDALOUS PROPOSAL, which released on February 26, 2013!
TB: Today, we'll start with an easy question first. Ash, what is A MOST SCANDALOUS PROPOSAL all about?
AM: The short version is it's Sense and Sensibility with sex–although it's not a completely faithful retelling of Jane Austen. It can't be. It has love scenes! It also takes place in Mayfair for the most part, rather than the country, and the characters are possibly a bit higher up the social rank than Jane wrote about. Not so much country gentry but relatives (some more distant than others) of titled people. On the other hand it does feature two romances, and the plot intertwines around both of them. I feel it's important to mention this, because the blurb on the back of my book might lead you to believe this is your usual Regency with one main romance.
TB:  I love the duality of having two heroines. Although I know the book is primarily about one sister, it was refreshing to see an alternate viewpoint within the story. Very clever you is!
AM: Why, thank you! *Curtseys (and probably trips. Pretend you didn't see that.)* By the way, I've only just noticed my initials spell out AM, and I am *so* not a morning person. Why didn't I think of that when I chose my penname?
TB:  Typically you Beau Monde gals are hardcore with your historical accuracy, particularly with regard to social customs. What are some constraints about this time period that impact your writing?
AM:  What a brilliant excuse to segue into my second book! See, Isabelle, the heroine of my second book is a Regency-era single mother. As you can imagine, depending on a woman's social rank, having an illegitimate child wasn't exactly the done thing. And I wanted to portray realistically what might have happened to someone like that. Oh, I probably could have made things worse for her, by forcing her to sell her favors for a scrap of bread here and there and dying horrifically of some venereal disease, but then I wouldn't have much of a HEA. But she does pay a price in her reduced circumstances, and even her neighbors in the village where she's settled don't give her much of a break.
TB:  It's true. Venereally ever after does NOT have the same ring to it. So I'm glad you kept your heroine STD free. Tell me about your heroes. Do have images in your mind about what he looks like? Do you have a celebrity muse?
AM: Oh dear. I have several… Benedict from my first book bears a striking resemblance to Gerard Butler. Highgate, also from my first book (since there are two heroes), might possibly remind readers of Alan Rickman. George Upperton from my second book is more along the lines of Russell Crowe, only younger and not quite so scruffy. Muttonchop sideburns aside, they weren't too big on facial hair during the era. Oh, and if my cover model is to be believed, he also has buns of steel. J
I
'm working on a new series right now, and my current hero may just look a bit like Sean Bean. But I've also been thinking of the book after that. See, I've been glomming the BBC series Robin Hood on Netflix for one reason and one reason alone: Sir Tall, Dark, and Brooding himself, Guy of Gisborne, AKA Richard Armitage. So if you notice one of my upcoming heroes has long dark hair, green eyes, and a deep, gravelly voice, you'll know where I got it from.
TB:  Why, I declare, my dear Miss Macnamara, what lovely taste you have. Sean Bean was a favorite of mine from days past and Gerard Butler has graced MANY pages without knowing it! And ahhhh…. Richard Armitage. Perfect blend of brood, but humorous, too. Bright green eyes AND an accent? Lawd, where are my smelling salts? You're not the first historical writer with a taste for R.A. Henry Cavill is a favorite of many, as well. I used to adore Adrian Paul from the Highlander TV series! But, alas, I heard him do an interview once where he was very ungracious and it ruined the illusion. Plus he's cockney!!! Didn't see that one coming!! Now, on to something else. What five things would you take to a deserted island if you were going to be there for say…. One month?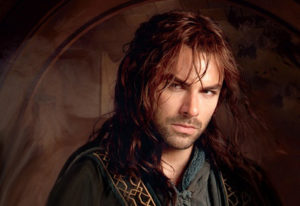 AM: Richard Armitage, Sean Bean, Gerard Butler, Aidan Turner, and Daniel Day-Lewis as he appeared in Last of the Mohicans—not that I have a thing for  men with long hair. And I want to stay more than a month. That's not cheating is, it?
TB:  Now that's what I call Fantasy Island!! I'd like to visit there myself! But there is AidAn Turner, and then there is AidEn Turner. I always mix them up but either is mighty fine! And I loooove the movie Last of the Mohicans. James Fenimore Cooper had it all wrong. Hollywood made that story so much better. (All the dead historical fiction writers are rolling in their graves right now!)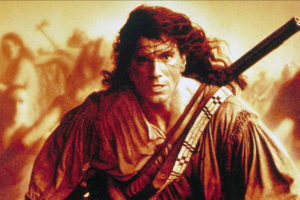 AM: I don't know. I think Mark Twain would agree with you… Although in true romance fashion, I would have loved for Alice and Uncas to have survived and had their HEA.
TB:  Ah, yes. Uncus! He did not hold up too well in real life! And now DDL looks like Lincoln. But they'll be forever young and beautiful in our books and in the movies. Well, Ms. Macnamara, this has been a lovely chat. But might I add that no trip to a tropical island is complete without a great book to read. Such as…A MOST SCANDALOUS PROPOSAL! Here is wishing you loads and loads of success. I loved that book and I know everyone else will, too. Thanks for visiting with me today!
AM: Thank you so much for inviting me. It's been fun. And I can't wait to read HOLD ON MY HEART! I adored both HIGHLAND SURRENDER and CRAZY LITTLE THING, especially for the humor laced throughout your contemporary work.
TB:  Why thank you. Just for that, you may visit me again someday. 
Ashlyn Macnamara writes Regency romances with a dash of wit and a hint of wicked. She considers this writing gig her mid-life crisis, but figures it's less dangerous than hang-gliding or sky-diving. Despite her insistence on looking toward the past, she can be found on Facebook and Twitter.