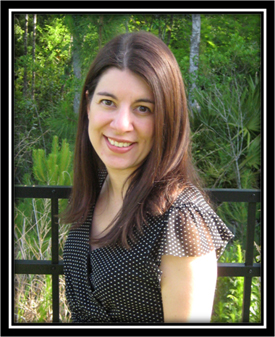 Today I'm excited to be chatting it up with fellow 2011 Golden Heart Finalist, Valerie Bowman. She's soon to be a household name so remember, you met her here first! Valerie writes Regency-set historical romance novels with a focus on sharp dialogue, engaging story lines, and heroines who take matters into their own hands!  Her debut novel, SECRETS OF A WEDDING NIGHT, will be published by St. Martin's Press in late summer 2012. She has a B.A. in English Language and Literature with a minor in History from Smith College and has been writing and editing professionally for nearly 15 years. She is a member of Romance Writers of America, and a member of The Beau Monde special interest chapter. Originally from Rantoul, Illinois, she now lives in Fleming Island, Florida with her two dogs. When she's not writing, she keeps busy reading, traveling, or watching Hoarders.
TB:  Thanks for joining us, Valerie!
VB:  Hi, Tracy! Thanks so much for having me!
TB:  You've got lots of great news to share so let's get right to the questions. Tell me about your current work in progress and which aspect of this particular story you love the most.
VB:  My WIP right now is the second in the trilogy I sold to St. Martin's Press. The working title is Secrets of a Fortnight. I call it a Regency retelling of He's Just Not That Into You. I love that it's a full-on romp like my other stories. Simple plot where the hero and heroine just spend as many pages together as I can possibly squeeze in. So fun!
TB:  Nothing beats a romp! What do you plan to work on next?
VB:  Next, I'll be writing the third book in the trilogy. No title yet but it will be the story of James, Viscount Medford, who appears in the other two stories.
TB:  At what point in your career did you first feel confident in calling yourself a writer?
VB:  I think this was easier for me because I am a professional writer (technical) in my day job. Before that, I was (briefly!) an entertainment news reporter at a small, local paper. So I've been calling myself a writer for a while. Now, Romance Author is a new one. It's what I've been aspiring to for over four years and it's still so fun every single time I say it.
TB:  That definitely has a nice ring to it! What inspires your stories? Books? Music, People magazine's most beautiful people edition?
VB:  All of it! I will see a picture, read a book, or hear a song and it will trigger an idea for a story. I'm trying more and more to tune into those things. The more I'm aware of it, the more possibilities await.
TB:  I find myself looking around, listening, and deliberately coming up with story ideas all the time. I'm probably one of the few people in the world who doesn't mind sitting in a waiting room or standing in line. What techniques do you use to help develop your story? (Storyboarding, outlining, daydreaming, interviewing your characters?)
VB:  I wish I could tell you that storyboarding or interviewing my characters works for me. It doesn't. I really just get the smallest idea of a plot or a setup and then I write the story almost entirely in dialogue. First, I block out about 35 chapters or so in a Word .doc and then I go back and write one or two lines under each chapter heading to sort of 'outline' the story. Then, I start writing and fill in the blanks. After I build the structure with the dialogue, I go back and force myself to write description and detail.
TB:  I think there are two camps on that. I tend to write in all dialogue, too. Then I have to go back and add detail so that the characters tones and expressions are clear. It's so visual in my mind but I have to remember to write what I *see* as well. If you had to choose a 2nd genre to write in, what would you pick? What would the title of that book be?
VB:  Oh goodness, I don't think I could write anything other than Regencies. I adore them. But I did attempt a contemporary once. That's probably what I would try again. As for a title, I don't know: Blame it on Illinois? (Where I'm from. Ha!)
TB:  Well, you've hit your stride with Regencies, so if you don't want to try another genre, I'd say that's okay! Describe a perfect writing day.
VB:  Jammies, laptop, bed and pre-plotting all done so I can just write, write, write. I work full time at a desk in front of a computer all day so when I come home and write, I love to snuggle up with my new MacBook Air (My reward for selling, by the way. Love it!)
TB:  That's nice little 'book deal' reward. You've earned it!  Who was the first person you contacted when you learned your first book had been purchased by a publisher?
VB:  Oh, such a fun question! I was in a hotel room at RWA Nationals in New York City in June of 2011 when I got THE CALL. Luckily, two of my three critique partners were in the room with me. I started jumping up and down and screaming and they, also (luckily?) had cameras and snapped pictures. So I was with the right people and I have it recorded visually for all time. I lucked out! My CPs were so happy for me and we all three jumped up and down and screamed.
TB:  I remember sitting at The Golden Network luncheon (for Golden Heart nominees during the conference) and getting an email from whomever you were sitting next to, telling us you had sold. I was so excited for you! And I also remember you telling me later that day was your birthday. Seriously, that was some good karma you had going that week! What will you do to celebrate your first release day?
VB:  GIANT CHAMPAGNE/CUPCAKE PARTY! And lots of copies of the book!
TB:  I want to be invited to that party! You mentioned critique partners. How do you work together?
VB:  I do have critique partners. These days they are more of beta readers for me because I enjoy writing the whole story out before I send it off to be critiqued, but they were certainly there for me when I was entering the Golden Heart® competition last year. I wouldn't be where I am today without them.
TB:  Who are some of your favorite authors/books?
VB:  Judith McNaught's Once and Always and Lisa Kleypas' Then Came You are two of my all-time favorites.
TB:  Do you have writing rituals? Habits?
VB:  I haven't always done this but lately I really love to write in my moleskin notebook in longhand and then type it into my computer later. Something about that really stimulates my imagination for some reason.
TB:  That must be the historical girl in you coming out. It's funny that you love that, AND your new Mac. It's good to have both options. Let's get back to conferences. What/where was your first writer's conference and how did you feel attending it? How are they 'different' for you now?
VB:  My first conference was a local conference in Jacksonville, FL, in March of 2008. Suzanne Brockmann was the keynote speaker. I had my first editor pitch appointments and it was the first time I met other people who were writing romance. It was an amazing experience and changed my whole life. I joined the chapter soon after and learned most everything I know through them. Now when I go to conferences I spend a bit more time talking with friends and seeing people I know than I used to. And that is very fun!
TB:  You mentioned you've been a technical writer for awhile. But how long have you been a fiction writer with publishing as a goal?
VB:  I've been writing since June 3, 2007. Yes. I remember the date. I sat down that day and said, I'm going to do this and if I'm going to do this, I will be successful eventually. Which for me, meant print published by a New York house. That was my goal. Go big or go home.
TB:  I'm with you on that! What does your family say about your career success and your professional journey?
VB:  My family could not be more proud of me. My mother and sisters are avid romance readers and I couldn't have more support from my boyfriend. They are all very proud.
TB:  Now that you've gone pro, what advice would you give to an aspiring, newbie writer?
VB:  Read every single book on the craft of writing you can get your hands on. Specifically, King's On Writing, Swain's Techniques of the Selling Writer, Dixon's GMC: Goal, Motivation, Conflict, Hood's Creating Character Emotions, Snyder's Save the Cat, Egri's The Art of Dramatic Writing, Maas' Writing the Breakout Novel, McKee's Story, and my all-time favorite, Newman and Mittlemark's How Not to Write a Novel. Also, don't discount taking a grammar class. I really recommend the Grammar Divas. It's a fantastic refresher even for us English Lit majors!
TB:  I have most of those books. I guess I should read them! What advice have you received that has been particularly helpful?
VB:  One of the things I did with my Golden Heart® finalist manuscript (which is the one that sold) is I wrote shorter chapters with the intention of setting up more hooks. It really helped with the pacing and keeps the pages turning, in my opinion. You often hear, end on a hook, but I would also advise to purposefully keep your chapters shorter 5-10 pages (which will always vary) so that you're writing to produce more hooks not just ending on hooks.
TB:  That is original advice and I love it. It makes the writer strive to create more obstacles and more tension. And we know that's always better! Where and how do you do your research?
VB:  The Internet and the Beau Monde chapter are invaluable. I have a ton of Regency history books that I've read and adore but there's nothing like the Beau Monde chapter for a quick question from some of the most knowledgeable Regency experts around.
TB:  I feel that way about the Hearts Through History specialty chapter, too. Not too long ago there was an online conversation about the history of circumcision which went on for days! And I learned a lot of things I'd never heard before! What are a few 'myths' about being a writer that you'd like to dispel?
VB:  Hmm. Writing myth? That we wait around for the muse to strike us? It's not like that. Yes, writing is an art form but it is also a business and the only way to finish your product is to sit down and W-R-I-T-E. Period.
TB:  I think that's a myth lots of writers are stuck on. And more great advice from you. Tell me something most people don't know about you and would be surprised to learn.
VB:  Oh man! I wish I had a photographic memory and played the ukulele. Hmm. Let's see. I have a secret addiction to True Crime novels. I'll read anything by Ann Rule or John Douglas. Fascinating! But I don't write romantic suspense. That's a talent I just don't have.
TB:  What is your all-time favorite movie?
VB:  All self-respecting Regency writers will say the BBC version of Pride and Prejudice with Colin Firth. I also adore Emma with Gwyneth Paltrow.
TB:  Wonderful choices! I love the scene in Emma where she is saying she wants to "stay in the country where it's cozy," and the camera pans back and she's standing in front of this gargantuan 'summer home' with about 150 rooms. I have that movie, and P&P on dvd and I watch them when my husband is away! He finds Jane Austen films to have a certain sedating affect he just can't overcome. On the other hand, I was lucky enough to visit Bath, Somerset a few years ago and see the place Ms. Austen spent some time. I desperately wanted to visit her museum but was overruled by my family. I'll make them fans yet!
Valerie, it's been lovely getting to know more about you! I can't wait for your first release! And the next, and the next!  (Book #2 of the trilogy will be released in January 2013 and book #3 will be released in summer 2013.) I'll be sending you lots of good wishes and big sales numbers.
If you'd like to learn more about Valerie and her trilogy, visit her at www.ValerieBowmanBooks.com or www.twitter.com/ValerieGBowman